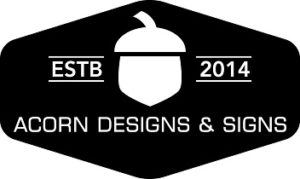 We are happy to announce our official ScareFest Tee Sponsor. Our tees are made of a wonderful soft comfortable fabric with tagless size labels.
In 2014, the Acorn was planted. Their goal was simple: create the best company they could, in the most honest and ethical way.
With over 20 years in the screen printing and signage industry, their heritage is strong, and strengthens with every client added. They look forward to serving you too! The Acorn is already growing into the mighty oak which will stand the test of time.
Year after year The Official Artist of The Scarefest, Joel Robinson, creates another phenomenal wearable work of art for us!
You will be able to find our awesome ScareFest XII items FIRST at the Scarefest Booth at the front entrance of the exhibition hall with presales offered online. Every year we sell out of many styles quickly so get yours FAST!