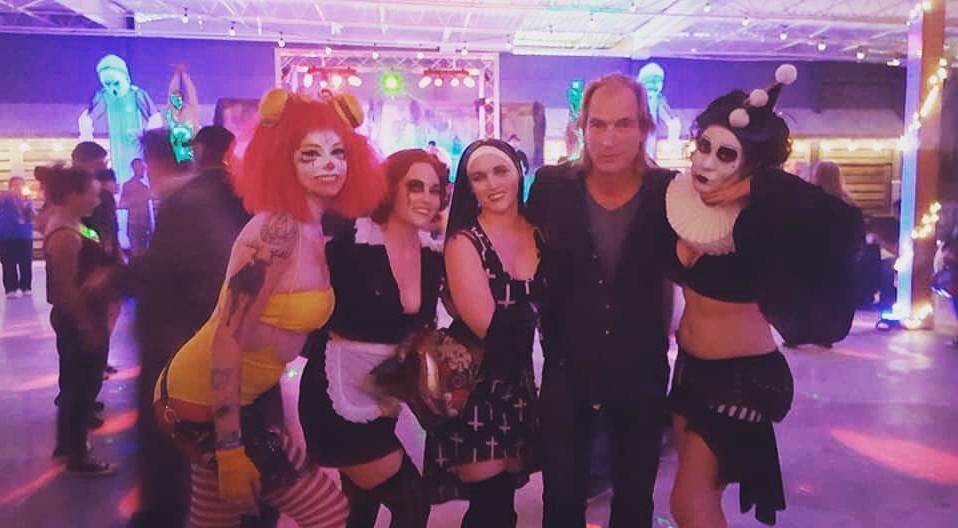 Pardon us while we brag.
The Scarefest parties are LEGENDARY!
As horror and paranormal fans ourselves, we go to a lot of conventions. We've been to some great conventions. We've yet to go to a con that puts the effort, expense, and energy in their parties as we do.
There are three main parties directly arranged and hosted by The Scarefest.
Our Launch Party on Thursday
Our VIP Party on Friday
Our Costume Party on Saturday
The Launch Party is one we are working on getting right. We've done everything from starting it too early to having too much going on (the magic show was a particular buzz kill). In 2019 we got it right and now we can build on that success! We will soon be announcing the venue and time for our Launch Party including what entertainment you can expect. Last year we had a DJ and a band. This year???
Our VIP Party is completely changing format this year. It had honestly gotten too big! Our idea to fashion it after Carnivale worked all too well. Some of our fans told us it actually got so big and noisy that they felt like it was losing focus on what is important: bringing our guests and our fans together. For 2020 expect a downsized, more fan oriented VIP party. Remember, our VIP party is limited to our celebrity guests, speakers, and VIP level pass holders.
But if you enjoyed the entertainment such as our Horror Drag Show, Burlesque Dancers, and Glow In The Dark Robots, fear not…We are shifting all that to our Saturday Night Masquerade Ball. 
For 2020 we are rebranding our costume party as The Scarefest Masquerade Ball. This event, to be held at The Manchester Music Hall will feature much of the outlandish atmosphere you have come to expect from a Scarefest Party with one important twist: Since it is Halloween, we want to give more people a chance to experience what we have to offer. So for 2020 our costume party will be open to the public as a ticketed event. 
This change means that we are also changing our annual costume contest. Our 2020 costume judging will be done during the expo. 
All of this is in the early planning stages. Watch this page for updates!