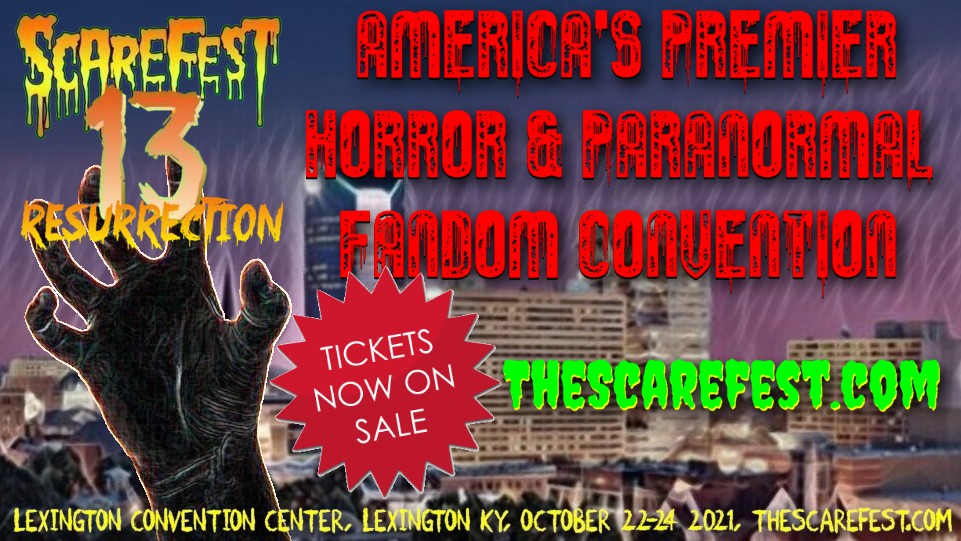 The Scarefest has released their 2021 tickets for sale!
All 2020 tickets for the "Lost Year" will be honored for 2021. If you had purchased 2020 tickets and did not request a refund – you are good to go at 2020 prices! Platinum ticket holders will still get a room in one of our host hotels and both Gold and Platinum ticket holders will get admission to our 2021 Halloween Celebration and Costume Ball held at LexLive on Saturday.
One thing that has been changed this year is the Platinum ticket: That level is not planned to be sold at this time. With three great host hotels we decided it made more sense for the consumer to pick their own hotel based on their own preferences of amenities and location. Once again, if you are a Platinum ticket holder from 2020 – your ticket will be honored and a hotel room will be booked for you. 
All Scarefest tickets will still give you access to our lineup of seminars and to our Horror Film Festival. However, due to anticipated construction at our convention center, those activities will be held across the street at LexLive. Also watch for updated schedules as our new partnership with LexLive will allow us to offer some activities such as these (and MANY MORE) outside of beyond our convention floor hours.
About that Halloween Celebration and Costume Ball. Yes, our traditional Costume Ball has been discontinued. Our partnership with LexLive has given us the opportunity to grow it well beyond the old "Watch the costume contest then go to bed" model. This year's event will be open to the public as a separate ticketed event and will include what, in the past, were VIP Party facets such as our Horror Drag Show. Details and tickets for this event will be made available very soon.
If you are a 2020 ticket holder and would like further clarification that your ticket is still in effect or have any other questions, feel free to contact info@thescarefest.com.