The ScareFest Expo's Unique Wide Aisles Make a Huge & Comfortable Difference!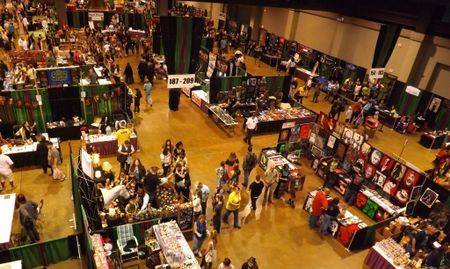 Be an Exhibitor with your Artwork or Business at the largest Independently Owned Celebrities, Horror & Halloween Expo in the U.S.!
The ScareFest X is our 10th year Anniversary!
Find out what our long time vendors & Artists have know for 9 years running: The ScareFest is a great show to display your unique items!
Choose the simple Featured Vendor Option this year to get the most out of your ScareFest Selling Experience!
Our fans are truly the best! Lovers of all things creative & mysterious!
---
Brand New for 2017! We are celebrating our 10 Years of Terror by offering some NEW options for our Exhibitors!
•First: ALL Exhibitors & Artists are INVITED & WELCOMED to our Exclusive Friday Night VIP Party at Manchester Music Hall! No extra purchases needed!
• Second: This year we introduce our new option for our local & regional Artists! Artist Tables! lower priced/less space/table & chairs included. We are excited to welcome back all of our long time vendor & artist friends! Some of you have been with us since Day 1! We'll see you there!
---
•10×10 Vendor Booths come piped & draped with 1 skirted 8ft table and 2 chairs.
•Our Artist tables are specially priced to celebrate the Independent Artists that we know & love!
•Psychic Lounge booths are on the main floor this year! You'll find them in the front hall, typically where food vendors are found during the Home & Garden Show & Christmas show in Heritage Hall/Lexington Convention Center.
Need help? More Questions? Contact our Awesome Vendor Director: Susan Goldey at: vendors@thescarefest.com