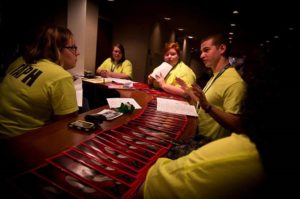 JOIN OUR STAPH TEAM
How to become part of the SCAREFEST X-Ten Years of Terror TEAM!
Each year we experience a slight increase in attendance, events and overall business. Because of that, we are always evaluating our staffing needs!
We are ALWAYS looking for Community Partners & Volunteers.. that we lovingly refer to as "STAPH MEMBERS" thanks to founder PATTI STARR! .
If you are interested in becoming a volunteer, Please use our online Staph Application. The link will walk you thru the interactive form. Please note that your electronic signature on this form commits you to any and all requirements, rules and guidelines as well as indemnity contained within this application.
If you have any Volunteer Questions at any time.. you may contact our Volunteer Directors, Amber Truax & Kim Spillman    at: volunteer@thescarefest.com
Our FIRST FULL STAPH Meeting will be held on SUNDAY January 29th at 3pm at our NEW ScareFest Expo Offices:
Located Within THE PLANTORY
501 W. Sixth Street
Just adjacent to West Sixth Brewery
Feel free to bring a friend or family member with you to join our team this year!
Volunteer Benefits include:
1. A Three Day Weekend Pass to the show, includes all FREE Seminars and Events plus Saturday Costume Ball.
(Access to these areas and parties only available OUTSIDE of your scheduled working shift)
2. VIP Party Pass: Exclusive Access to our most prestigious Celebrity Party on Friday night.
3. A "PLUS ONE" Pass: An extra 3 day weekend pass + VIP Party pass for a friend or family member.
(Staph Passes do not include posters, Swag bags, line skip, priority seating or any other "VIP" perk besides 3 day access and VIP Party)
4. Limited Access to our Hospitality Suite for food & refreshment (no guests)
5. FREE STAPH Shirt to be worn during your shift schedule only.
6. FREE SCAREFEST X OFFICIAL EXPO SHIRT/BASIC T.
7. Inclusion in all Staph Meetings, activities, access to Street Team Opportunities for other shows & events.
8. Point of Professional Reference when needed in exchange for your job well done!
---
****DISCLAIMER: Any or ALL Staph Benefits may be reduced or eliminated pending verification of your work schedule and/or performance in your expected job. All Staph hours MUST be met before Official Shirt will be given. By electronic Signature, you agree that you will adhere to all scheduled hours once received, and will abide by proper behavior/presentation and act in a manner promoting the common good as a representative of ScareFest. ScareFest Owners & Operations Reserve the right to dismiss any volunteer at any time based on the overall business need, lack of performance, conflict of interest, unmet schedule, or other