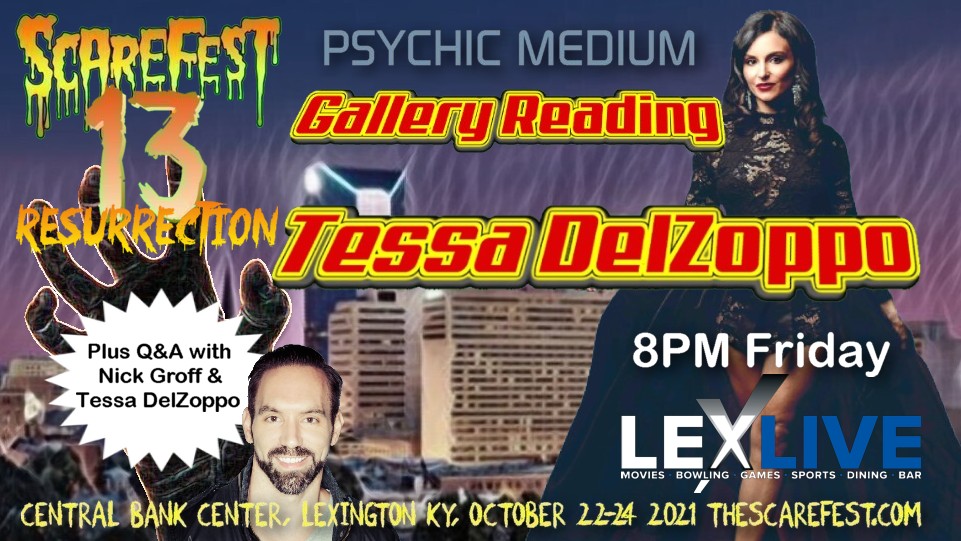 Just Added! Nick Groff will join Tessa for her gallery and do their first ever Convention Joint Q&A!
Tessas' goal as a medium is to validate evidentially that our loved ones ARE around—and that they are safe and at peace. Tessa's ability is meant to bring healing and closure by connecting our world to the spirit world— and to also shed light to that burning question: "what happen's when we die?"
Around the age of four, Tessa began seeing spirit. As a child, she became very ill which resulted in a major surgery and a stay in the hospital for several weeks. During her visit at the hospital she encountered "angelic" white lights and figures surrounding her bed at night. In her later years, Tessa realized that this critical stage in her life could have triggered her ability as a medium. Although the ability was passed down from her grandmother, to her mother, and then to her— Tessa believes that her years of illness connected her very strongly to the spirit world. In the years to follow, she would frequently see a man walk into her room every single night. Eventually as she gained the courage to ask him some questions and relayed the messages back to her family, she found that it was an uncle who died in the house prior to her being born. It was in these moments where she realized that she was able to connect with souls who are no longer here in the physical world. In her teens, Tessa decided to learn more about her ability, so that she could help those around her.
She went on to receive her Bachelor's degree in education, and her Masters degree in Clinical Mental Health Counseling. Her work as a medium overpowered what she was able to do in a clinical setting— so she decided to put her career aside and follow her passion as a medium relaying messages from spirit.
She was very drawn to the paranormal world and would frequently be asked to come to locations that experienced a lot of activity— to read the location and find out who or what was around. Tessa's role as a medium began to take many different avenues— from private readings, to paranormal work, as well as criminal investigations involving missing persons and homicides.
Tessa's career took off as she began reading people nationally and internationally around the world. From podcasts, to local radio stations, Tessa began to connect with large audiences. Due to her background in the entertainment world as a dancer and an aerialist, she was always drawn to the stage. She knew for a very long time she wanted to be able to create a venue where people can witness spirit communication first hand, which is when she decided to take the stage. Tessa began reading large live audiences in different venues— eventually leading to her live casino show, "A Glimpse", which began to tour in 2020. When the COVID-19 pandemic hit, Tessa transformed her live show into a podcast called "A Night with a Medium". She delivered messages virtually to her audience, as well as interviewed and read many celebrity faces in the entertainment world— actors from HBO's famous series "The Sopranos", TV personalities such as Bridget Marquardt, comedians, Disney animators, Cirque du Soleil performers, Broadway faces, and paranormal TV personalities. Tessa's career continues to grow, and her continued passion for her ability as a medium continuously allows her reach more and more people throughout the world.
UPDATE: Tickets for Tessa's Gallery on ON SALE NOW. It will be held FRIDAY at 8PM at LexLive.