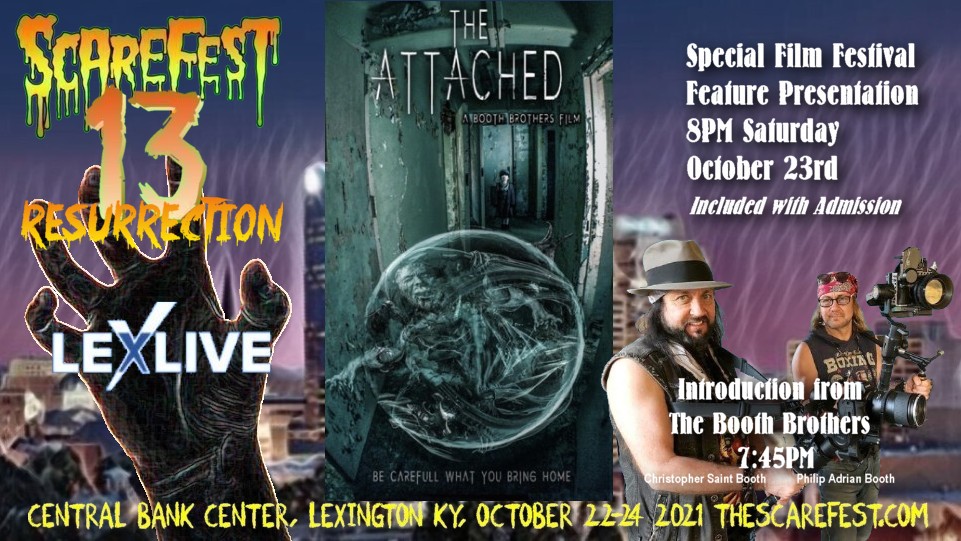 The Scarefest is pleased to announce that we will host a Featured Presentation of The Attached from The Scarefest Film Festival, hosted by Scarefest regulars Christopher Saint Booth & Philip Adrian Booth on Saturday evening at 8PM at the LexLive Theaters with their introduction at 7:45.
Filmmakers, producers, directors, composers, authors, actors, cinematographers are among a few hats Christopher Saint Booth and Philip Adrian Booth wear.
The Booth's have been filmmakers together since the mid 80's, also CEO's of "Spooked Television " for the Sci-fi channel. They are known for films Dead Still, Death Tunnel, Dark Place, The Exorcist File, Spooked:The Ghosts of Waverly Hills Sanatorium and Children of the Grave.
Have you ever had a belonging that you thought was haunted? Christopher and Philip just finished a film about items that have attachments , "The Attached". You will get the opportunity to see the items in their film and much more at Scarefest 13 Resurrection .