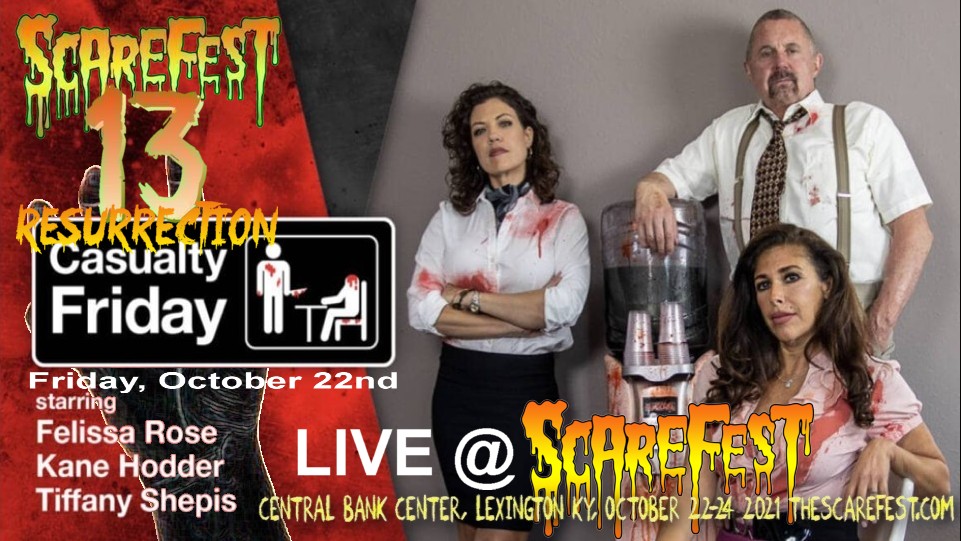 If you're coming to Scarefest you're probably already fans of Felissa Rose, Tiffany Shepis, and Kane Hodder. Here is an extra chance to experience them at their best. They are coming to The Scarefest Main Stage on Friday October 22nd for a LIVE presentation of their popular podcast Casualty Friday.
Wipe the blood off the water cooler … it's Casualty Friday! The world's most famous masked killer (Kane Hodder), the hardest working scream queen around (Tiffany Shepis) and an 80's gender-bending fan favorite (Felissa Rose), hack and slash their way through personal conversations about their unique lives working in the horror industry. These three friends will dive, dish, and dis in these no holds barred discussion that will make you laugh, cry (and maybe vomit).
This event has been moved to the convention main stage at 7PM Friday to allow more of our visitors to experience it as part of the convention. Admission is included with your Scarefest Pass.