Throw Axes with Your Favorite Killers!
Robert RUFUS Mukes
Vernon LORD GENERAL Wells
William SHERIFF WYDELL Forsythe
Lew AXEL Temple
Kane JASON Hodder
R.A. LEATHERFACE Mihailoff
Steve STACHE Nappe
When: 9PM Friday, October 22nd 2021
Waiver sign-ups begin on-site at 8:30PM
Where: Battles Axes of Lexington
1170 Manchester Street, Suite 160, Lexington

UPDATE: SPECTATOR TICKETS NOW ON SALE IN ADDITION TO TEAM TICKETS!
Throw axes with some of your favorite horror movie celebrities! A limited, intimate experience with up to two hours of quality, up-close time teamed with a star from Scarefest the 13th: Resurrection. As an added bonus, each participant will receive a souvenir group photo with their team celebrity. The celebrity guests from 2019 Ax throwing event all said that this event was by far the most fun they had ever participating in at a con.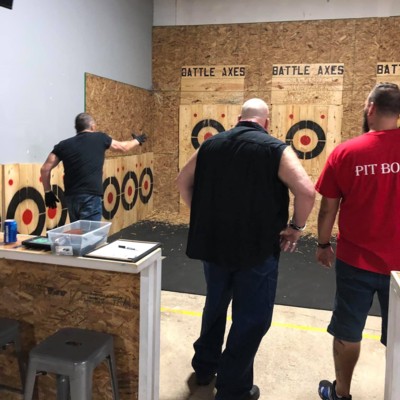 In addition to a ticket purchase, all participants will be required to sign a release form on site. Participants under the age of 18 must have a guardian present. More information and house rules are available at the Battle Axes web site.
Final celebrity participation roster will be announced in the days leading up to the event. No advertised celebrity can be guaranteed to appear and no refunds will be given if any particular celebrity is unavailable at event time. Teams will be chosen the evening of the event with participants divided evenly into groups hosted by our 2021 celebrities.
There will be up to 9 teams with up to 9 participants, each led by an announced celebrity.
Tickets are EXTREMELY LIMITED due to space and safety concerns! At full capacity we expect to fill the roster with ten Scarefest 2021 celebrities (to be announced as contracts are finalized) with each "team" consisting of 9 or less participants.
Tickets are available to the general public and do not require additional Scarefest 2020 passes.
This event is your best chance to have an up close and exclusive experience hanging out with the stars!
Beer and Blades: Battle axes also offers over 70 varieties of beer and cider which will be available for purchase during this event. More than anyone in carries in the Distillery district.
---
When we heard a couple of years ago that an Ax Throwing venue was coming to Lexington we were nothing short of thrilled. What could be better than having a few beers and throwing lethal weapons across the room?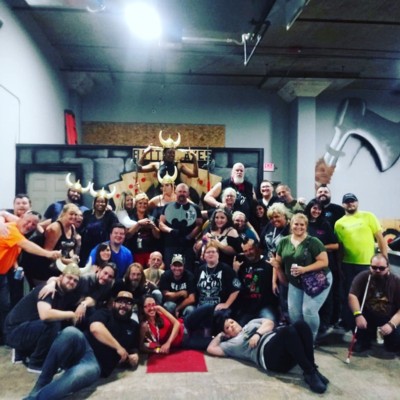 In 2019 we launched one of our most talked about Celebrity Events ever: Throwing Axes with Stars. It featured Scarefest favorites Kane Hodder, R.A. Mihailoff, and Steve Nappe and was an instant hit with the attendees.
Unfortunately, the tickets went on sale too late to sell out! Because it was a "launch activity" on the Thursday leading into the expo many of our fans lamented that they did not get notice in time to make the necessary arrangements (i.e. take off work early) to attend the event.
This event has been moved to Friday night to allow more of our expo goers PLUS the general public a chance to attend.
Watch this page for updates as we move forward with our planning for Scarefest the 13th!
Find out more about Battle Axes of Lexington.
What could be more fun than spending a couple of hours hanging out and flinging axes around a room with your some of your favorite on screen killing machines? OK…there are rules and targets, but it still sounds profoundly decadent. 
Tickets for our celebrity ax throwing event are now for sale. For your enjoyment, we will offer up to 9 celebrities leading teams of up to 9 players each at Battle Axes of Kentucky on Friday, October 22nd, 2021. 
Our celebrity roster for the evening will grow as the teams sell out. On the evening of the event, teams will be randomly drawn by the celebrity hosts. We will keep an updated itinerary posted on the EVENT PAGE. Check it regularly for updates to the event and for news and guidelines for the event.