FRIDAY'S SCHEDULE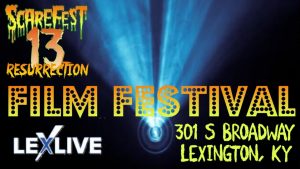 The Scarefest Film Festival: Starting Friday at 1PM*
Included with Admission:  Friday 1PM through 8PM, Saturday and Sunday during regular convention hours. The Scarefest Film Festival takes a new format this year at LexLive! First: it actually starts before* the convention doors open so that those of you who arrive early will have a great way to kick off the weekend. Just show up at LexLive with ANY Scarefest pass (or buy one there in our ticket kiosk) and watch all of the horror and paranormal as you wish in the comfort of a real theater.
Friday is Hero Day
All First Responders (law enforcement, firefighters, medics, and military – active and retired) get free admission to the expo floor during convention hours Friday. Just show up with your official I.D. No purchase nor pre-ticketing necessary.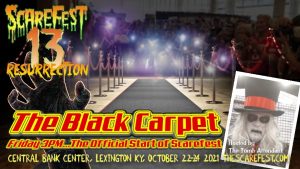 The Official Start of Scarefest: Friday 3PM
VIP level pass holders and Media Pass holders converge on the black carpet at 3PM Friday at the expo entrance for massive photo opportunities of our celebrities, speakers, and other dignitaries.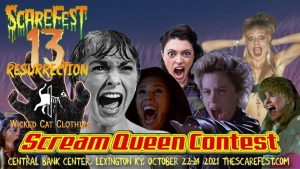 Scream Queen Contest: 6PM Friday
Included with Admision: Save your voices, ladies. Get ready to use your instrument in our Scream Queen Contest. Loud. Blood-curdling. Piercing. Share the scare with us! Held on the Main Entertainer Stage.